Price Trend>
Echemi Analysis
Analysis of DEG Import and Export Markets in August
The diethylene glycol (DEG) import volume increased obviously in August. The inventory rebounded to 70kt main ports of East China in August. As units in other countries operated stably and the demand for DEG was rarely in the international market, there were scarcely any exports in Chinese DEG market.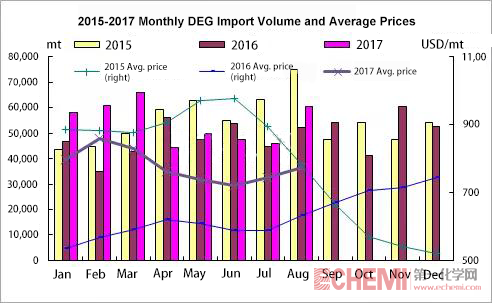 The Chinese DEG total import volume was 60.5kt in August, 2017, which was up 31.21% Y-O-Y. The DEG import average price was $775.24/mt. The DEG accumulative import volume was 433.6kt in 2017. In August, units in other countries operated normally, and units in Sinopec Yangzi Petrochemical and Sinopec Shanghai Petrochemical underwent maintenance. The supply of DEG decreased. Therefore, the amount of purchasing increased obviously in Chinese DEG market.
From September, as DEG units in the Taiwan area and South Asia took overhaul, the trade volume in Taiwan Area decreased obviously, while supply was stable in Middle East. It is predicted that the DEG import volume will be about 55kt in September. What is more, the supply of DEG will continue to decrease in Taiwan Area. It is predicted that in October, the DEG inventory will be 50kt main ports of East China.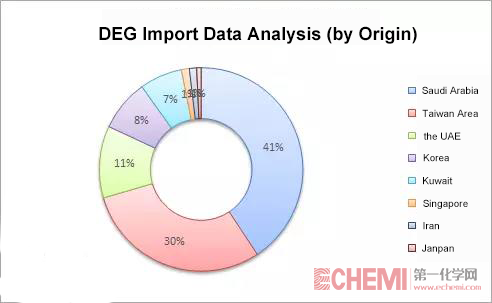 The Saudi Arabia supply volume was approximately 24.6kt, which accounted for 41% of the total imports and ranked the first in the Chinese import market. The supply volume the Taiwan area was about 18kt, which accounted for 22%. The supply volume in United Arab Emirates was about 6.9kt, which accounted for 11%.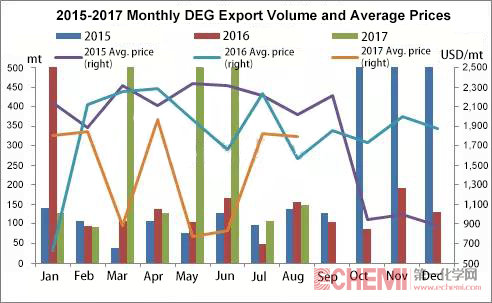 The DEG total export volume was 147.66mt in August, which was up 38.26% Y-O-Y. The accumulative export volume was 15,379.31mt. In September, there was still no export. Part of ships in East China transshipped to South China ports. The total transshipment ratio was in the range of 5,000-6,000mt. However, the total export volume was no change. It is predicted that the DEG export volume will be about 0.15kt in September.
Source: Echemi
Disclaimer: Echemi reserves the right of final explanation and revision for all the information.