Price Trend>
Echemi Analysis
Titanium Dioxide Market Inched Up Around 2% in Sept. 2017
Rutile Titanium Dioxide Market Review: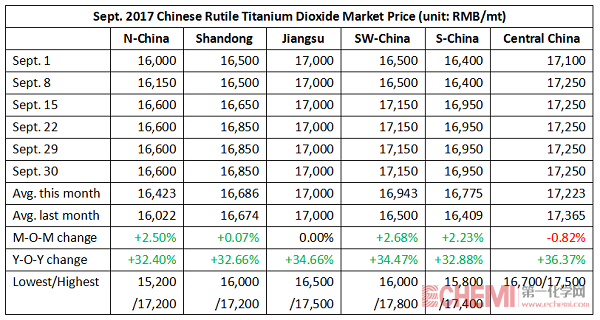 The Chinese rutile titanium dioxide market rebounded slightly in September 2017. Influenced by the environmental protection supervision in August, the overall operating rate in China's mainstream producers went down. Supported by the export market, the inventory was modest. In early September, Lomon Billions raised prices by RMB 500/mt, and other producers followed. However, the bullish sentiments did not last for a long time. With the coming National Day holiday, the buying interest was low. The overall negotiation prices increased by RMB 200-300/mt this month.
Up to September 30, the mainstream negotiation prices were in the range of RMB 15,800-17,200/mt, up around 500/mt from last month.
Anatase Titanium Dioxide Market Review: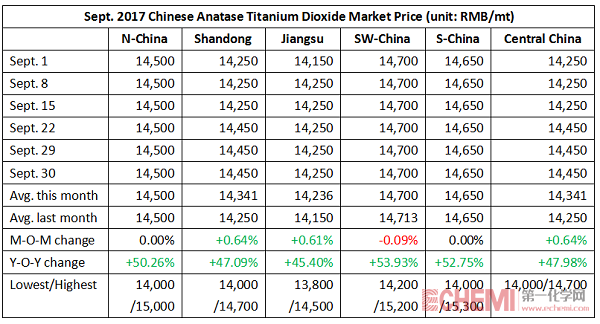 The Chinese anatase titanium dioxide market inched up. The environmental protection supervision weighed on the operating rate, and the overall supply was slightly tight. In September, though some producers restarted, the inventory was still low. Up to September 30, the reference prices for anatase titanium dioxide were in the range of RMB 14,000-14,500/mt.
Forecast:
The prices of raw materials remain high, which will support the titanium dioxide. Currently, some titanium dioxide producers have no public offers and plan to raise prices after the National Day holiday. However, restricted by the weak demand, the increase will be limited in the range of 200-300/mt. Players should focus on the changes in inventory.
Source: Echemi
Disclaimer: Echemi reserves the right of final explanation and revision for all the information.