Price Trend>
Echemi Analysis
TDI Prices Will See No Downtrend Pressure
On September 25, the settlement price of TDI produced by BASF Shanghai was RMB 39,600/mt, when the negotiation price was about RMB 37,500/mt. The October unsettled price of TDI produced by BASF was RMB 45,000/mt, which was the same as the price last month. This unsettled price was higher than the market level, but was still within the expected range, which promoted the overall market to some degree.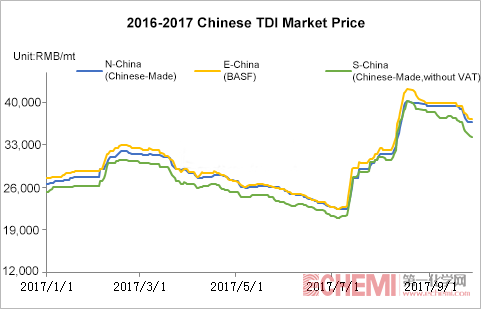 As TDI trade volume decreased greatly from mid-September, producers felt sales pressure. The trades were mainly in small amount, and few large-amount orders were heard in the TDI market. There were some bullish sentiments supported by the BASF's offers, and some producers slightly adjusted the sales arrangement. The panic sentiment was released slightly. The price for low-end Chinese-made TDI was heard to be RMB 35,000/mt with VAT, which can not represent the mainstream price. Up to September 27, the Chinese-made TDI mainstream prices for Chinese-made TDI were in the range of RMB 35,500-36,000/mt, while the mainstream prices of TDI produced by BASF were in the range of RMB 37,000-37,500/mt.
With the decreasing TDI prices, the downstream users showed the "buy-high" mentality strongly. However, the TDI trade volume increased obviously, because few companies decreased prices greatly and they hold an active attitude to sell goods. At present, the TDI inventory was in a low level. Also, the downstream users still need to stock TDI during before the National Day. It is predicted that the trade volume will increase.
Cangzhou Dahua plans to take units maintenance in October and the units will be shut around 19th CPC National Congress. Shanghai TDI factories will have export plan in October, which will decrease the supply in Chinese market. At present, the inventory continues increasing in TDI factories. As some factories will suffer inventory pressure and they will still stock TDI during the National Day, the players will be still willing to sell goods intensely. It is predicted that the inventory will be consumed rapidly, which can release the pressure from factories. The low-priced goods will be few because of the tight supply.
The players will still be bearish about the TDI market. The downstream users will show weak interest in purchasing. In the short term, the players will suffer selling pressure. In the long term, the TDI price will have possible to rise again in October.
Source: Echemi
Disclaimer: Echemi reserves the right of final explanation and revision for all the information.