Price Trend>
Echemi Analysis
The Demand for TDI Was Weak This Week (Sept 1-7, 2017)
1. TDI Market Analysis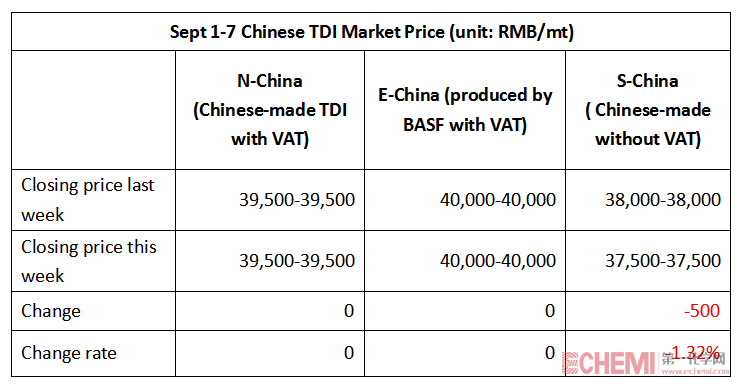 The TDI price was stable this week. The TDI prices in North and East China were range-bound, while these in South China decreased slightly. The trade volume was on the low side. The TDI factories intended to maintain the price. It was heard that only large-sized producers in Shanghai increased TDI price to RMB 41,500/mt, while other factories did not follow. Many TDI factories chose to maintain the ex-works prices. The traders hold different amounts of goods. The low-prices TDI was sold out, while the users stocked high-priced TDI cautiously. Therefore, the quoted prices continued maintaining stably. The downstream users still purchased TDI on a need-to basis. The overall trading was weak. Up to September 7, the Chinese-made TDI price was in the range of RMB 39,000-39,500/mt with VAT. The price of TDI produced by BASF was RMB 40,000/mt with VAT.
2. Supply of TDI
The Chinese TDI operating rate was approximately 73%. Two units in Gansu Yinguang Chemical were shut. The operating rate of TDI unit in Fujian Fuhua was about 50%, while operating rate in Yantai Juli Fine Chemical was around 90%. The units in other factories ran at full loads. The inventory of TDI was modest, and there has no sale pressure. The inventory from holders in North and East China was few, while it from holders in South China was in a high level.
3. Demand for TDI
The demand for TDI from sponge industry was weak. As the boom season was coming and the environment protection supervision was still strict, the demand for TDI was unstable. The orders from large-sized companies were better, while the production from small-sized companies was stopped. The sponge factories estimated the production cost strictly when they accepted orders. Also, the users purchased TDI on a need-to basis cautiously. The downstream users showed weak interest in stocking goods.
4. International TDI Market
The international TDI market was stable. Few low-costed TDI was sold at a quite low prices. The majority of the TDI prices were stable. The futures TDI from Korean market will be negotiated to October. The quoted price was $4,700/mt CFR China. However, the downstream demand was flat. The negotiation price of TDI was in the range of $4,300-4,500/mt. It was heard that the Korean TDI price was $4,520/mt CFR China.
5. Forecast
The TDI factories will intend to increase the price. BASF Shanghai Company will have clear intention to increase price. Moreover, it is predicted that the Chinese factories will increase quoted price next week. The holders will have weak intention to sell low-priced goods. Also, the downstream inquiries will turn better. It is predicted that the TDI price will be in a high level next week.
Source: Echemi
Disclaimer: Echemi reserves the right of final explanation and revision for all the information.