Price Trend>
Echemi Analysis
Chinese Formaldehyde Market Moved Up in Apr 2018
Market Price: On April 28, the closing prices for formaldehyde in Shandong were in the range of RMB 1,500-1,550/mt. The average price was RMB 1,458/mt, up RMB 7.69% month on month and 14.98% year on year. The average price in Hebei was RMB 1,359/mt, increasing 8.58% month on month and down 0.13% year on year.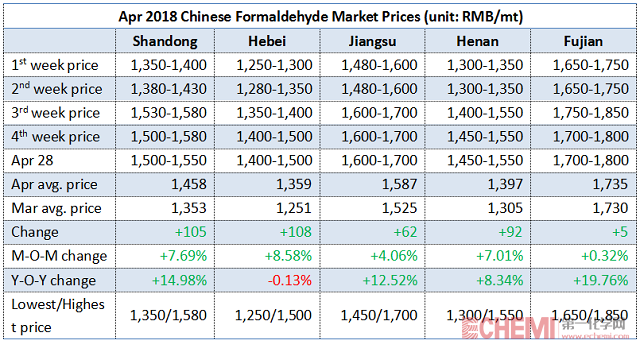 In early April, the prices of raw materials were weak, which weighed on the negotiation sentiments in the formaldehyde market. Moreover, the downstream demand was weak. From mid-April, the methanol prices moved up and the mainstream negotiation prices went up. However, the downstream demand remained tepid. Formaldehyde prices remained stable.
Profit Analysis: In April, the profits of Chinese formaldehyde producers were fairish. The average profit was RMB 156.59/mt, up RMB 10.69/mt month on month. The methanol market increased first and then fell down, and the formaldehyde market followed the uptrend first and then moved marginally.
Forecast: In May 2018, the methanol market will be weak, which will weigh on the formaldehyde's production cost. As for the demand, the hot and rainy weather will influence the demand for formaldehyde. Some formaldehyde units in Linyi, Shangdong are expected to undergo maintenance. Some units in Hebei and Henan will be shut on other influencing factors.
On the whole, the Chinese formaldehyde market is expected to be weak in May 2018.
Source: Echemi
Disclaimer: Echemi reserves the right of final explanation and revision for all the information.