Price Trend>
Echemi Analysis
Events in 2017 Chinese VAC Market
1.Ratio of VAC and PVA Was Adjusted
Mainstream producers adjusted the production and marketing ratio of vinyl acetate (VAC) and PVA. The overall operating rate of PVA increased greatly year on year. The supply of VAC declined. The 250kt/a VAC unit and 100kt/a PVA unit at Mengwei were put into operation in April 2017. The PVA supply increased greatly. Though the export volume increased obviously, the supply was still surplus in the Chinese market. PVA prices declined for many times, which weighed down the VAC market.
2.Hunan Xiangwei Shut All Units
On May 12, Hunan Xiangwei shut all units. Most VAC were used into the production of PVA. With the shutdown of Hunan XIangwei's units, the number of VAC units with normal operation became single. The industrial concentration improved.
3.Supply Shrank and Export Moved Down
Up to November 2017, China exported around 146,043.909mt VAC, down 24.02% year on year. Weak price advantage was the major reason. With the capacity of calcium carbide method increasing, Chinese VAC producers suffered sales pressure. Export was the major way to ease the oversupply.
4.Environmental Protection Supervision Influenced the VAC Profits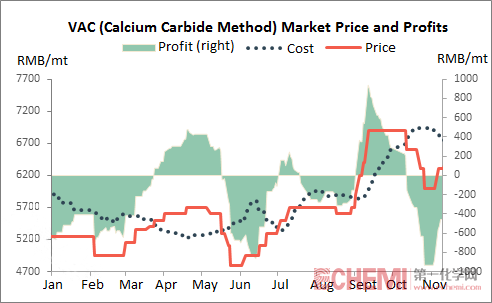 Influenced by the environmental protection supervision, some small-to-medium sized downstream producers had to shut during April-July. The demand for VAC was tepid. Meanwhile, the slump in PVA market in May pressured the VAC market. Though the supply remained tight in H2, 2017, the glacial acetic acid prices were high and VAC producers operated in a loss. Only in September, VAC producers saw some profits on the U.S. hurricane in September 2017.
5.Hurricane Influenced the VAC Production in U.S. and Global Supply Got Tight
At the end of August 2017, the hurricane Harvey came to the U.S., and the 300kt/a VAC unit in Celanese (Texas) and 385kt/a VAC unit in LyondellBasell were shut. Meanwhile, the ethylene unit in Dow was shut, which would influenced the production of the 365kt/a unit. The 335kt/a unit at Kuraray was also shut. The supply in U.S. was extremely tight. Some European traders started to find goods from China. In H2 September, the new orders for China's VAC declined, though the units in U.S. were still shut at that time.
Source: Echemi
Disclaimer: Echemi reserves the right of final explanation and revision for all the information.