Price Trend>
Echemi Analysis
Aniline Market Review and Analysis in Q4, 2017
Introduction: In Q4, 2017, the Chinese aniline market increased first and then moved down. The highest prices reached a new high in 2017.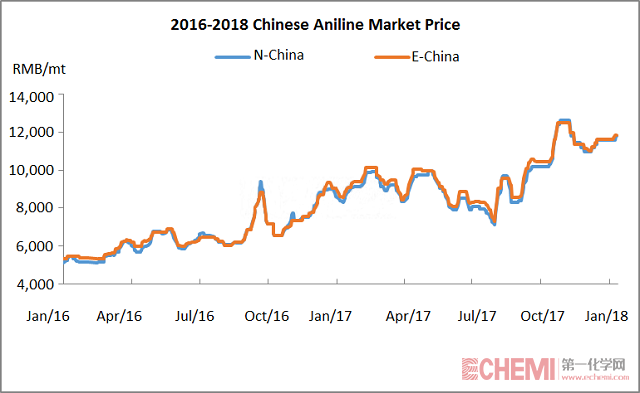 The Chinese aniline market increased first and then moved down in Q4, 2017. The highest price reached a new high. In October, the aniline market prices increased greatly first and then hovered at highs. In November, the market continued moving marginally at high levels. In December, the aniline market declined first and then remained stable.
Benzene Market Had Less Influence on the Aniline Market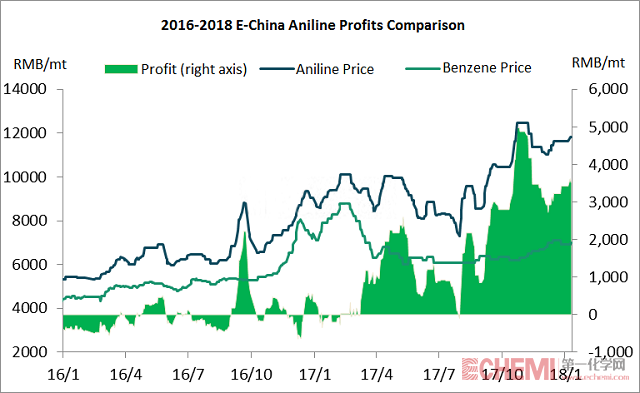 From Q2, 2017, the co-movement between benzene and aniline declined obviously. In Q4, 2017, benzene prices didn't give to much influence on the aniline market. From the above chart, the profits of aniline increased obviously and were at high levels at the end of 2017. The average profit of aniline in Q4 was RMB 3,651/mt.
Operating Rate Became the Major Influencing Factor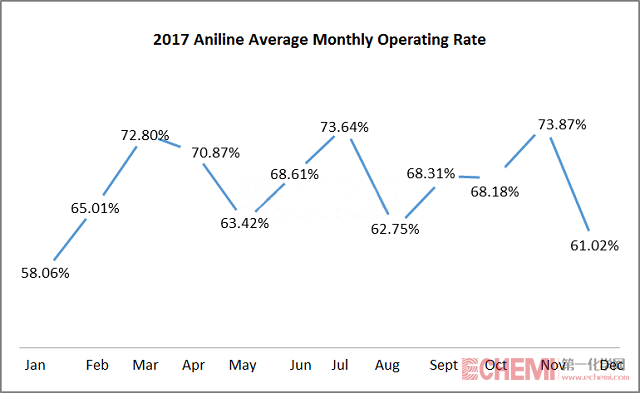 At the end of July 2017, the 200kt/a aniline unit at Shandong Jinling was shut. The supply declined greatly. Players focused on the supply change.
In H1 October, the 100kt/a unit at Dongying Huatai was shut. Two 30kt/a units in Shandong Jinling underwent maintenance from October 8 to October 19 in turns. The 130kt/a unit at Shanxi Tianji was undergoing maintenance. The supply in North China and Shandong was tight. The overall operating rate in the aniline market was low at 68.18%. The aniline market prices moved up. When the units at Shandong Jinling restarted, the prices became stable. In H1 November, the 100kt/a aniline unit at Dongying Huatai started to run at 40%. The 130kt/a unit at Shanxi Tianji restarted on November 9 and ran at full loads. The supply in North China and Shandong increased gradually and the prices moved down. In December, most aniline units ran normally. But, two 30kt/a units in Jinmao were shut in mid-December and the unit at Xinpu Chemical was shut, which ensured the stability in the aniline market. In December, the average operating rate was around 61%. The unit at BASF (Chongqing) was shut on the tight supply of LNG and the unit at Wanhua underwent maintenance. No aniline was available from these two producers.
Firm Exports Ensured the High Prices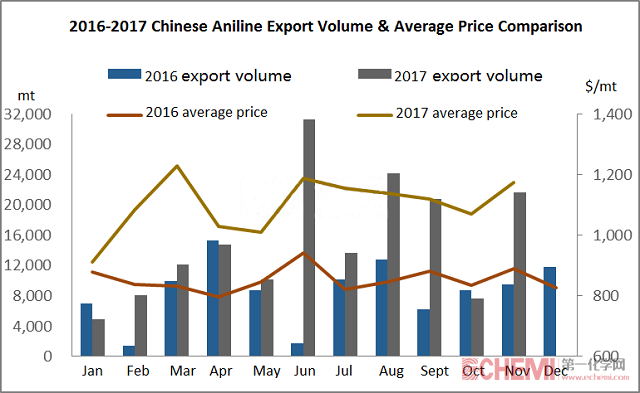 In 2017, the export volume of aniline in China was good. In October and November, the export volume reached 29.3kt/a or so, increasing 59.24% year on year. Increases in the export eased the sales pressure in the Chinese market and ensured the high prices of aniline.
Source: Echemi
Disclaimer: Echemi reserves the right of final explanation and revision for all the information.