Price Trend>
Echemi Analysis
2017 Chinese Isopropanol Market Review
Introduction: The Chinese isopropanol market fluctuated obviously in 2017.The highest price was RMB 8,700/mt in early 2017. The lowest price was RMB 6,150/mt. In H2 2017, the Chinese isopropanol market moved marginally.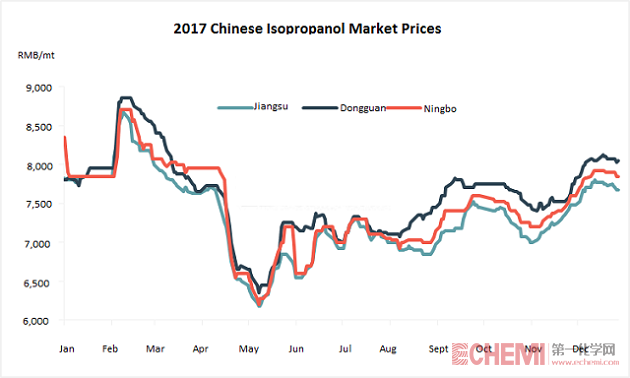 From January to February, the benzene market boosted the acetone prices. Then the isopropanol market moved up on the increasing acetone market. Meanwhile, the propylene market remained high, which supported the isopropanol market. From February to May, the buying interest was weak, and the acetone market went down. And the demand for isopropanol was thin, and isopropanol market slumped.
From May to August, the demand was modest. The unit at Changchun Chemical was shut from April. In May, the isopropyl acetate unit at Kailing Chemical was shut. The 100kt/a acetone hydrogenation unit ran unstably. Though the Jinzhou Petrochemical started the second line, the overall supply of isopropanol declined. Moreover, acetone and propylene prices rebounded. The isopropanol market rebounded slightly.
The isopropanol market moved up continuously from September to December. On the one hand, the unit at Haike Chemical was shut. And export orders increased. The supply of isopropanol moved down. On the other hand, the downstream producers' operating rate improved, and the demand for isopropanol increased. Hence, the isopropanol market got better at the end of 2017.
Source: Echemi
Disclaimer: Echemi reserves the right of final explanation and revision for all the information.