News>
Company News
Market Bulletin Introduction
MARKET BULLETIN is a commercial weekly published regularly in a week (Monday) since 1952. It has got the distinction of being the only business Newsletter of its kind containing a variety of market information particularly regarding Dyes and Chemicals. It is read with keen interest by the business community and our subscriber are Textile industries, Leather industries, Paint industries and Hosiery industries all over Pakistan and abroad, including India and we have also some advertisers and subscribers from India.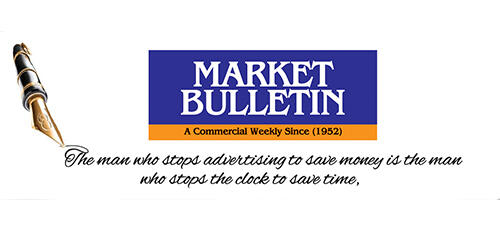 Market Bulletin contains import news of commercial; value, market reports, shipping information, daily port reports, position of currency bazaars as well as market rates of food stuff, chemicals and dyes, metals, textile and many more commodities.
Main feature of Market Bulletin is the advertisements placed by Imports, Exports, Shippers, Indenters, Suppliers, Industrialists and Traders belonging to different fields. This caters the needs of buyers and sellers up to their reciprocal gains. Market Bulletin plays the role of a bridge between demand and supply in different markets. It is the favorite platform of trading community and a large number of business concern gets tremendous benefits by placing their advertisement in this news letter. Thus Market Bulletin has earned a reputation of being the excellent medium of publicity for business community.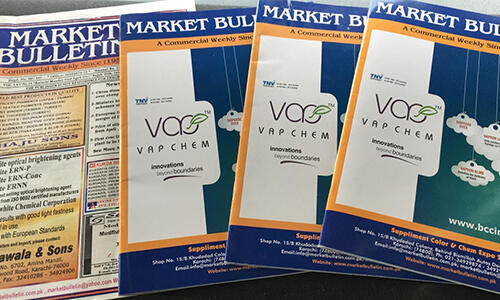 50 Years of Glorious Services
By the Grace of Almighty Allah, the MARKET BULLETIN has entered its 51st year of successful publication, with a renewed pledge of dedicated service to the nation and the business community in particular.
Brief Outline of Content & Categories
Commercial News & Public Notices issued by the Commerce Ministry & EPB
Advertisements placed by Importers, Exporters, Indenters, Suppliers, Traders & Industries
Market Rates of Foodstuffs, Chemicals & Dyes, Metals, Textiles & many more items
Shipping Information - Daily Port Report, IGM, EGM, Ship Movement, Arrival & Loading
Currency Exchange Rates
Source: Echemi
Disclaimer: Echemi reserves the right of final explanation and revision for all the information.